Guys, I CAN MOVE MY ARMS!!! Sorry I'm yelling, but this is a
big
deal. This is the first time that I've made something with non-puffy sleeves in which I can MOVE MY ARMS!!
This top actually has a few other firsts:
First sleeve slits & cuffs: I'm quite proud of these, even though they disappear a little in the busy print. I used

this tutorial

, which I highly recommend.
First pintucks: They aren't perfect, rayon is slippery and I don't have a fancy foot or anything, but I'm happy with them.
First boxy cut I like: Earlier this year I made a Sorbetto, and was thoroughly displeased with the boxy cut. I decided to try one more time, and with a more drapey fabric I actually like the shape!
The pattern is based off of Simplicity 4097, one of the first patterns I ever bought. It's out of print now (not too hard to see why...)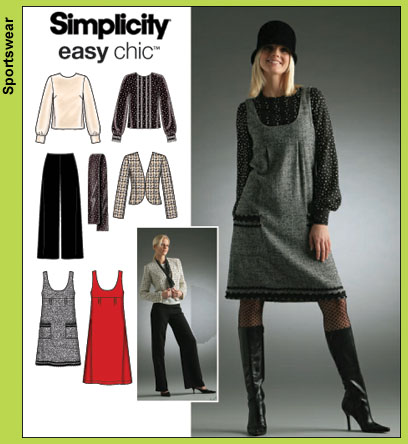 The blouse has potential though. The cut is very similar to the Sorbetto, with different angles in the bust darts and slightly different armholes.
Simplicity 4097 on the left, Sorbetto on the right.
I modified the Simplicity pattern by shortening the sleeves, using a skinnier sleeve cuff, and making the neckline rounder and wider.
I'm also wearing my black Clovers here. I have not solved the
itchy leg issue
yet, but if another wash doesn't help then I'll be trying reverse knee patches, as suggested by
Corinna
and
Lsaspacey
(thank you!!!).
I didn't deviate much from my
last Clover pants
, except to change the construction of the welt pockets. It's amazing how much more stable the pockets are with the top of the pocket bag extended to the waistband!
Since excess fabric at the backs of my thighs has always been a problem for me, I tried something new with these and stretched the back inseam in the thigh/knee area as I sewed, meaning that the back inseam is about 1/2" shorter than the front inseam but then stretched so they match. It really makes a difference I think. It does cause some wrinkling along the side seam when I stand in certain ways, but I've seen this in RTW jeans and it bothers me less than the back wrinkles.
QUICK FACTS:
Fabric:
Stretch cotton sateen from Paron, stretch gingham remnants
Pattern:
Colette Clover
and
Fabric:
Rayon challis rose print from Fabric Mart - free because they sent it to me by mistake.
Pattern:
Simplicity 4097
Happy Thanksgiving to everyone! I'm hoping to be back to more regular blogging soon, but I keep saying that to myself and then the next week is even busier than the last. So, don't hold your breath.